Senior
This special Senior recipe is made with a hand-crafted blend of unique ingredients to help keep the spring in the step of all your senior dogs.
SuperBlends Seniors' Club Patties
Patties
Created for you to Grab 'n' Go. Variety Boxes are the easy way to mix things up and, the best bit, we've taken all the work out of menu planning.
Seniors' Club Box, Patties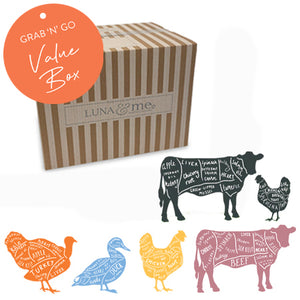 Superblends
Our extraordinary SuperBlends recipes are the highest standard there is. The most nutritious, delicious food you can serve.
SuperBlends Coconut Crunch
SuperBlends Kelp Kisses
SuperBlends Love Hearts
SuperBlends Live-a-Littles
SuperBlends Bone Broth
Naturals
All the noms your dog deserves!
Naturals Bare Bones - Beef
Price

From £2.99 to £3.50

Sale price

From £2.99 to £3.50
Naturals Bare Bones - Lamb
Naturals Yakers
Price

From £2.99 to £10.99

Sale price

From £2.99 to £10.99