Patties
Patties
Individual 100g Patties. Quick thaw, No mess, No fuss, No waste – Raw Feeding Made Easy!
Puppy
We believe puppies deserve the very best start in life, which is why we've spent a lifetime perfecting this tasty, wholesome and complete recipe.
Puppy Power Patties
Superblends
Our extraordinary SuperBlends recipes are the highest standard there is. The most nutritious, delicious food you can serve.
SuperBlends Wild Venison & Duck Patties
SuperBlends Lovely Lamb & Turkey Patties
SuperBlends Delicious Beef & Venison Patties
Adult
Our best-selling complete recipes have everything your dog needs for a balanced diet to help keep them healthy and nourished.
Adult Chick, Chick Chicken Patties
Adult Beefy Beef Patties
Adult Perky Turkey Patties
Adult Dandy Duck Patties
Adult Luna's Lamb Patties
Adult Tender Beef Patties
Adult Porky Pork Patties
Adult Glorious Goat Patties
Adult Rabbit Rabbit Rabbit Patties
Senior
This special Senior recipe is made with a hand-crafted blend of unique ingredients to help keep the spring in the step of all your senior dogs.
Bare
Our Bare 80-10-10 recipes exclude vegetables & fruit, perfect for dogs & cats with sensitivities.
Bare Chick, Chick Chicken Patties
Bare Beefy Beef Patties
Bare Perky Turkey Patties
Bare Dandy Duck Patties
Patties
Created for you to Grab 'n' Go. Variety Boxes are the easy way to mix things up and, the best bit, we've taken all the work out of menu planning.
Growing Up Box, Patties
Adult Starter Box, Patties
Value Box, Patties
Price

From £27.95 to £44.95

Sale price

From £27.95 to £44.95
Daily Favourites Box, Patties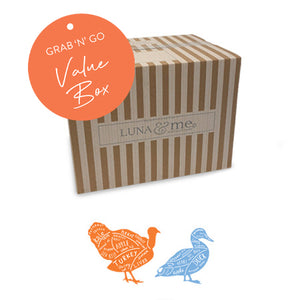 Weekly Favourites Box, Patties
Everyday Box, Patties
Indulgence Box, Patties
Gentle Essentials Box, Patties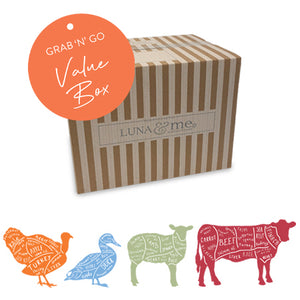 Bare Necessities Box, Patties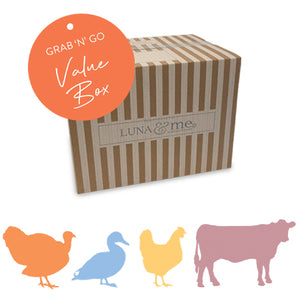 Seniors' Club Box, Patties