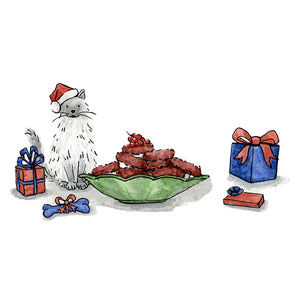 RawBlends Christmas Dinner - Three Bird Feast
£5.50
details
Christmas Dinner is your cat's very own natural and delicious Three Bird Feast, starring plenty of seasonal favourites. From succulent, freshly prepared Turkey, Duck and Chicken to a sprinkling of superfoods, including essential Taurine.
When your family gathers for festive fun and food, your cat can share all the excitement with their very own Christmas Dinner. We've created a new festive recipe full of naturally delicious ingredients, with an extra added blend of Superfoods, so your cat can share a truly special feast. Merry Christmas!
There has never been a more convenient way to feed a biologically appropriate raw food diet. Our Patties minimise the time needed to prepare & thaw before serving. Quick thaw, No mess, No fuss, No waste – Raw Feeding Made Easy! RawBlends Christmas Dinner Three Bird Feast Patties, available in one pack size: 600g = 2 x Tray of 3 x 100g Patties, total 6 x Patties This product has limited availability.
ingredients
nutrients
how much fits in a box
the gift of health for your pet
stay in touch:
by signing up you agree to our terms
DEFRA APPROVED 11/052/8106 ABP/PTF | © 2023 LUNA & me. All Rights Reserved